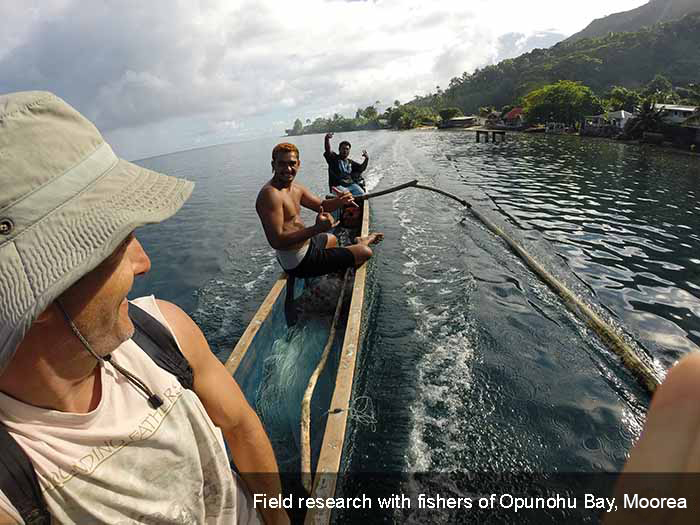 I research, write, and teach about environmental change, indigenous knowledge, and disasters in Oceania. My recent research has involved the micro-ecology of coastal and marine resource use; resilience and vulnerability of coastal communities to climate change and socio-ecological purtubations; and community-based resource management and development. In addition to my position in the Department of Anthropology, I am the the internship and study abroad advisor for the Sustainability Program. I am also run the Environmental Anthropology Lab (EAAL) here at SDSU.
I have two active research projects, one in French Polynesia, and another in the Solomon Islands. I am currently completing a book manuscript about the 2007 Solomon Islands tsunami.
Publications: Google Scholar

Recent publications:
Hunter, C., and M. Lauer. 2021. Ecosystems services research in action: Reflexively valuing environments in the South Pacific. Ecology and Society 26 (2):24.

Rassweiler, A., Lauer, M., Lester, S.E., Holbrook, S.J., Schmitt, R.J., Moussa, R.M., Munsterman, K.S., Lenihan, H.S., Brooks, A.J., Wencèlius, J., et al. (2019). Perceptions and responses of Pacific Island fishers to changing coral reefs. Ambio 49, 130-143.
Lauer, M. (2017). Changing understandings of local knowledge in island environments. Environmental Conservation 44, 336-347.

MA Students:
Samantha Howell, 2019. MA Thesis. Title: Adapting in Rural Paraguay: Drought, Authoritarianism, and Social-Ecological Poverty Traps
Mark Strother, 2017 MA Thesis. Title: The ecological and political dimensions of local knowledge among small-scale fishers in Moorea, French Polynesia
Chelsea Hunter, 2017 MA Thesis. Title: Waves of change: Politics, ontologies, and the struggle for acceptable marine managemetn in Moorea, French Polynesia
Savanna Schuermann, 2013 MA thesis. Title: The wantok system, scale and vulnerability: Shaping disaster recovery in an immigrant community of the Western Solomon Islands.
Barbara Quimby, 2012 MA thesis. Title: Artisanal fishing practices in Aceh, Indonesia: The embedded commons.
Douglas La Rose, 2011 MA thesis. Title: Buem agricultural strategies and crop choices as adaptability practices social responses to environmental change in a rural Ghanaian farming community
Videos:
See this panel discussion at the American Museum of Natural History in New York City. The discussion was part of the museum's 2013 Milstein Science Symposium entitled "Understanding Ecological and Social Resilience in Island Systems: Informing Policy and Sharing Lessons for Management."