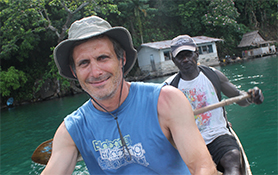 Matthew Lauer
Professor
Environmental and Ecological Anthropology
Office: AL-448a
mlauer@sdsu.edu
I research, write, and teach about environmental change, Indigenous knowledge, and disasters in Oceania. My recent research has involved the micro-ecology of coastal and marine resource use; resilience and vulnerability of coastal communities to climate change and socio-ecological purtubations; and community-based resource management and development. In am currently chair of the Department of Anthropology.
I have active research projects in French Polynesia, the Solomon Islands, and San Diego.
---
Recent Publications:
Wenceliús, J., M. Lauer, and T. Bambridge. 2022 Crafting the Success and Failure of Decentralized Marine Management, Moorea, French Polynesia. Ambio 51(12):2342–2357

Hunter, C., and M. Lauer. 2021. Ecosystems services research in action: Reflexively valuing environments in the South Pacific. Ecology and Society 26 (2):24
---
Recent MA Students:
Dawson, Paige, 2023. MA Thesis. Title Communities, contestation, and conservation: "Success" and adaptive marine management on Moorea, French Polynesia.
Nelson-Maney, Shannon, 2023. MA Thesis. Title: Coral Wars: Exploring the Ethics and Perceptions of Coral Modification
Samantha Howell, 2019. MA Thesis. Title: Adapting in Rural Paraguay: Drought, Authoritarianism, and Social-Ecological Poverty Traps
Mark Strother, 2017 MA Thesis. Title: The ecological and political dimensions of local knowledge among small-scale fishers in Moorea, French Polynesia
Chelsea Hunter, 2017 MA Thesis. Title: Waves of change: Politics, ontologies, and the struggle for acceptable marine managemetn in Moorea, French Polynesia

---
Videos:
See this panel discussion at the American Museum of Natural History in New York City. The discussion was part of the museum's 2013 Milstein Science Symposium entitled "Understanding Ecological and Social Resilience in Island Systems: Informing Policy and Sharing Lessons for Management."